About Us
About the Iowa Hemp Association
The Iowa Hemp Association is a non-profit, Iowa-based, advocacy and public benefit organization dedicated to the re-introduction and re-emergence of hemp as an agricultural crop in Iowa by educating farmers, farming organizations, landowners, students, and state legislators on the history, present, and future of hemp.
The IHA was founded in 2014 by a group of hemp activists from across Iowa. Across the country, states are passing legislation allowing farmers access to this once-staple American agricultural crop. As of the end of the 2018 Iowa Legislative Session, our lawmakers continue to deny Iowa farmers the legal climate necessary to take advantage of the rapidly growing hemp industry.
The IHA is engaged in various political and educational initiatives to educate Iowa farmers and the general public about the growing, $620 million US hemp products industry. Especially with the passage of the 2018 Farm Bill, which fully removed the legal restriction to hemp production at the federal level, it has become imperative for Iowa to join the more than 40 states to already implement hemp programs. The IHA believes that this opportunity should be available to Iowa farmers and overseen by the Department of Agriculture.
---
---
Dr. Christopher Disbro
Dr. Christopher Disbro is an Iowa native, physician, Founder and President of the Iowa Hemp Association, and CEO of the Heartland Hemp Company. He is a graduate of the University of Notre Dame and St. George's University with degrees in medicine, political science, and German. He's also studied at the Goethe Institute, The University of Innsbruck, and Northumbria University. Through his work in Iowa he has pushed for the re-introduction of hemp as an agricultural commodity and sought to increase access to hemp products across the state.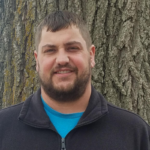 Ethan Vorhes and his family raise beef, pork, and poultry on a non-GMO grain farm in Northern Iowa. Ethan worked the last two years to transplant his farming operation to a hemp-legal state. He sees an opportunity to produce natural hemp-fed livestock with an advantageous flavor profile and a unique nutritional story. This aggressive pivot from traditional agriculture led Ethan to be a stakeholder in Colorado's hemp fed feasibility study group.
Ethan is now a steering committee member of the HIA-led hemp feed coalition. Ethan believes that hemp can help struggling family farms with a high market value product that simultaneously advances restorative land management. Federal approval of hemp grain as livestock feed is a vital part of regenerating our environment, economy, rural communities, and society.
Aaron Schoeneman
Aaron Schoeneman was born in Chicago's South Side and moved to Ames, IA to attend Iowa State University. He is one of the co-founders of the IHA and was the Executive Director of Iowa NORML from 2012-2014. Aaron has managed political financing and campaigns. Currently, Aaron is the Vice President, Head of Research & Chief Technology Officer for Focus & Find.